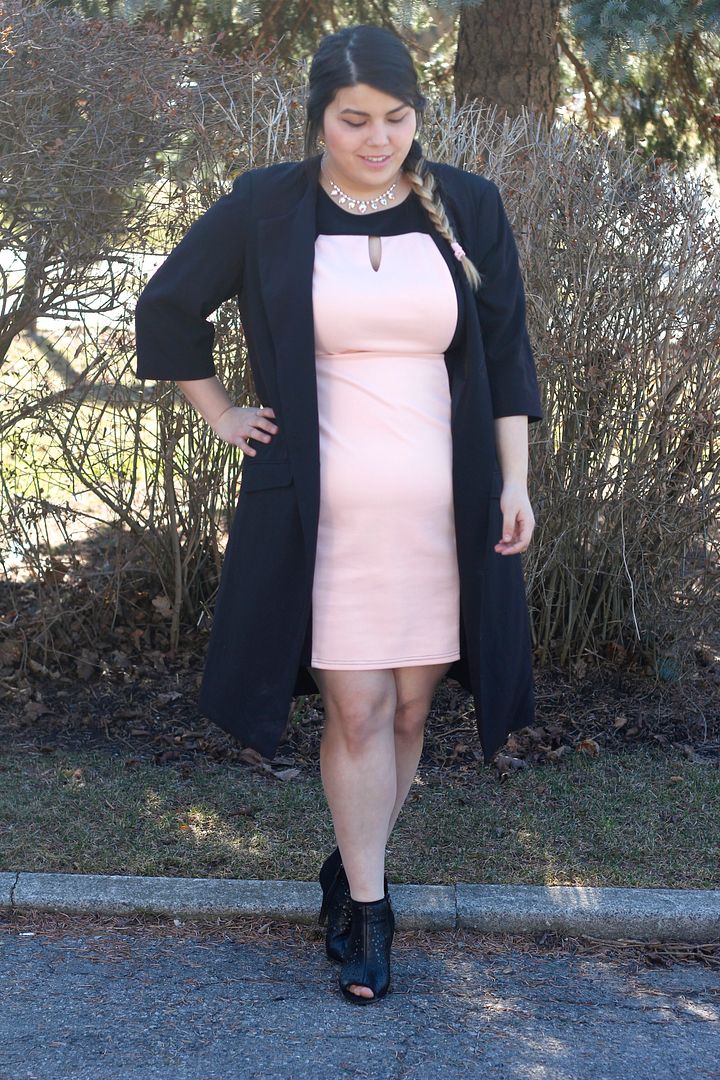 I've been going to a lot of fancier restaurants lately and, to be honest, my family and I aren't typically the type to dress up. We went to a pretty swanky restaurant a few weeks ago and my cousin wore a hilarious graphic tee and basketball shorts (we also had no idea where we were going). Luckily, they didn't really care and as soon as we sat down my cousin said he thought maybe he was underdressed. It was pretty hilarious.
We then made a pact to put more of an effort into what we wear to dinners we deemed
fancy.
I can successfully say we have been accomplishing this thus far! That's why a few days ago when my fam and I went out for dinner I decided to wear my third
Suzy Shier+
look (check out my previous looks
here
and
here
), this new
color block scuba dress with mesh
($46) from
Suzy Shier+
,
laser cut ankle bootie
s ($30), blazer and
iridescent necklace
. I received so many compliments and I'm in love with this dress, not only because of the adorable shade of pink it is but, I love the cute cutout and mesh back! I think it's just the perfect amount of ~*fanciness*~ and the messy braid I pulled my hair into gave it a cute touch!
This Thursday
Suzy Shier
will be having a 40% off event - which means you can grab this dress (as well as
this
or
this
) at 40% off! $27.60 for a really well-structured color block dress is not bad at all! Definitely browse around to see if there is anything you'd love to have - on sale!!!