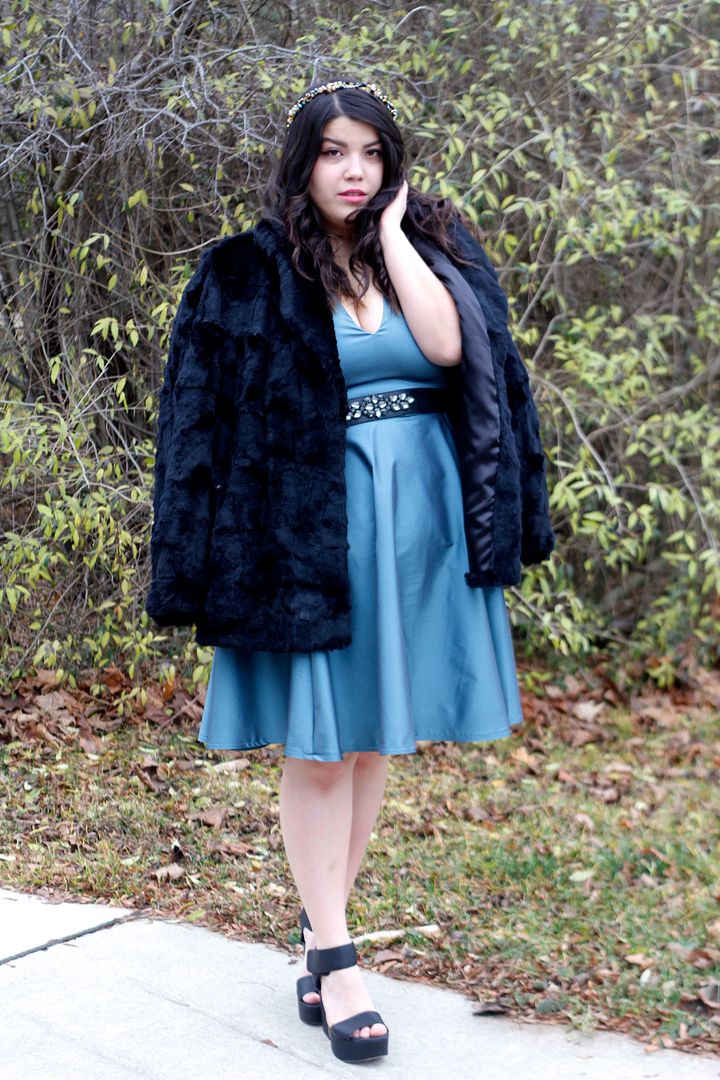 Toronto is having an extremely mild winter, which I am more than thankful for (especially in comparison to last year aka the worst winter we've had in 30 years)! I was able to wear my gorgeous Deep-V Dress from Liesl Binx last weekend with no complaints on the weather! As soon as I saw this dress, I knew it would be my go to for the Holidays, I mean look at that beautiful shade of blue.

♥_

♥
I was feeling pretty ~*majestical*~ and decided to pair it with my gemstone belt, a crystal headband, faux fur coat and my fave black heels.
I've been a fan of Liesl's stunning pieces for a while and actually getting to try it on, I'm even more in love (f that's even possible)! This is the first dress in my whole life that I did not need to wear a bra with it, which honestly has never, ever happened. The quality and cut are so on point, the dress just magically holds them up. Her pieces are hand-made, high-quality and low-quantity (ethical plus size clothing friends!!!!).
"We interpret high fashion trends without modifying them for the, "plus size" body. Our apparel offers the "architecture" to any wardrobe with options that work interchangeably for day or night. Based in Seattle, we focus on perfect fit and fabric selection along with high-quality garment construction. Plus we manufacture small amounts of each style so you don't have to worry about wearing the same thing as everyone else. As soon as the style sells out that's it!" - Liesl Binx
Check her collection out
here
!